Radioactive fallout from Chernobylite is now spreading through Steam and GOG! Get early access to the game via these platforms and watch the new video!
Starting today, you have the incredible opportunity to breathe in the terrifying charm of the Nuclear Power Plant in Chernobylite. Okay, that wasn't a good choice of words. Chernobyl is definitely not a safe space to breathe anything in, BUT it is a great place to explore and fight hostile stalkers and weird multidimensional creatures, am I right? If you agree, then take your survival kit and embark on an unforgettable journey for just 29.99 USD / 24.99 EUR / 23.99 GBP / 99 PLN / 249 UAH / 666 RUB through Steam Early Access and GOG "Games in Development". Just don't forget to watch the new trailer first, as this is
Explore the heart of darkness – the Chernobyl Nuclear Power Plant itself. Investigate the terrifying environments of Kopachi kindergarten, climb the mysterious Eye of Moscow, and inspect the fragments of the abandoned city of Pripyat. Experience 8 hours of constant survival and non-linear storytelling. Get access to free-of-charge updates that add new episodes, locations, characters, and equipment to the game. And if you're determined enough, discover all the possible endings!
Watch the Chernobylite Early Access Launch video HERE to be fully prepared in the event of exposure to toxic contaminants.
To get your hands on the early version of Chernobylite, visit its page on Steam (https://store.steampowered.com/app/1016800/Chernobylite/) or GOG (http://gog.com/game/chernobylite) and buy the game for only 29.99 USD / 24.99 EUR / 23.99 GBP / 99 PLN / 249 UAH / 666 RUB.
The full release is planned for the second half of 2020, so be sure to follow Chernobylite on Steam (https://store.steampowered.com/app/1016800/Chernobylite/) and Discord (https://discord.gg/mehRmzY) to keep up with all the news and updates from the developers. They're always happy to engage in discussions with their fans. After the Steam release, the game will also appear on other PC digital distribution platforms.
Chernobylite has been awarded The Best Polish Indie Game on Poznań Game Arena by Graczpospolita.pl! Thanks to the voters and congratulations to the team and our community. And that's not all – World War 3, the other game from our studio The Farm 51, won the China Choice award in CEEGA contest – the voice of appreciation from our Chinese community.
Besides showing our game to the players from Poland, we made several on-stage presentations, contests, the lecture on Game Industry Conference, many interviews and countless talks with fans and partners about our game – to get more feedback and make it better within Early Access phase.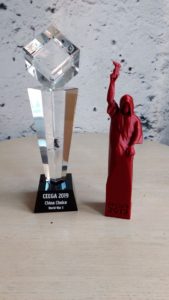 ABOUT THE GAME:
Chernobylite is a science fiction survival horror experience from the team behind the critically-acclaimed Get Even.
The game mixes free exploration of its disturbing world with challenging combat, unique crafting, and non-linear storytelling. 
The game utilizes Unreal Engine 4 and is based on Reality 51's scanning technology, which is in development by The Farm 51 for over five years.
SURVIVE
Ally or compete with other stalkers of the Chernobyl zone to survive. Remember that life is fragile, and it's your decisions that determine the fate of your companions. You can spend as long as you need to prepare, however, be aware that your story is still being written. Every passing moment, your chances of success are dwindling: comrades are dying, supplies are running out, or an unexpected patrol could discover you. And on top of all this, supernatural dangers arise around you in mysterious patterns. Each day brings new challenges with the ever-increasing severity of your current situation. Plan your strategy carefully if you want to survive. 
PLAY BY YOUR OWN RULES
Craft your gear and weapons to protect yourself from the hostile military personnel and supernatural threats lurking in the zone. Make use of the sophisticated tools at your disposal to aid you in your struggle while navigating the rough and contaminated environment. Stay undetected and gather all the evidence you can to piece together events from the past.
Decide what happens in the world around you by making choices and finding, or avoiding, the truth.
EXPERIENCE
Maintain your resolve and keep your wits about you, the Chernobyl Nuclear Power Plant is not what it once was. No one can foresee the horrors that may have befallen your beloved. 
CHERNOBYLITE – MAIN FEATURES:
Explore a beautiful and horrifyingly accurate 3D-scanned recreation of the Chernobyl Exclusion Zone;
Collaborate or compete with other stalkers in the Zone. But whatever you do, never fully trust them. Remember everybody has a hidden agenda. Always;
Face and survive natural and supernatural threats;
Immerse yourself in the thrilling, non-linear science-fiction horror story;
Make good use of your physics and chemistry knowledge to craft your equipment and manage your supplies;
Fight against savage creatures pouring out from an alternate reality;
Investigate and collect data with a set of sophisticated environment and substance-analyzing tools.
Chernobylite is now available in Early Access on Steam (https://store.steampowered.com/app/1016800/Chernobylite/) and GOG (http://gog.com/game/chernobylite). The full release on Steam is planned for the second half of 2020.
More information about the title can be found on the official website (http://www.chernobylgame.com/), Steam, Facebook, Instagram, YouTube, Twitter, and Discord.